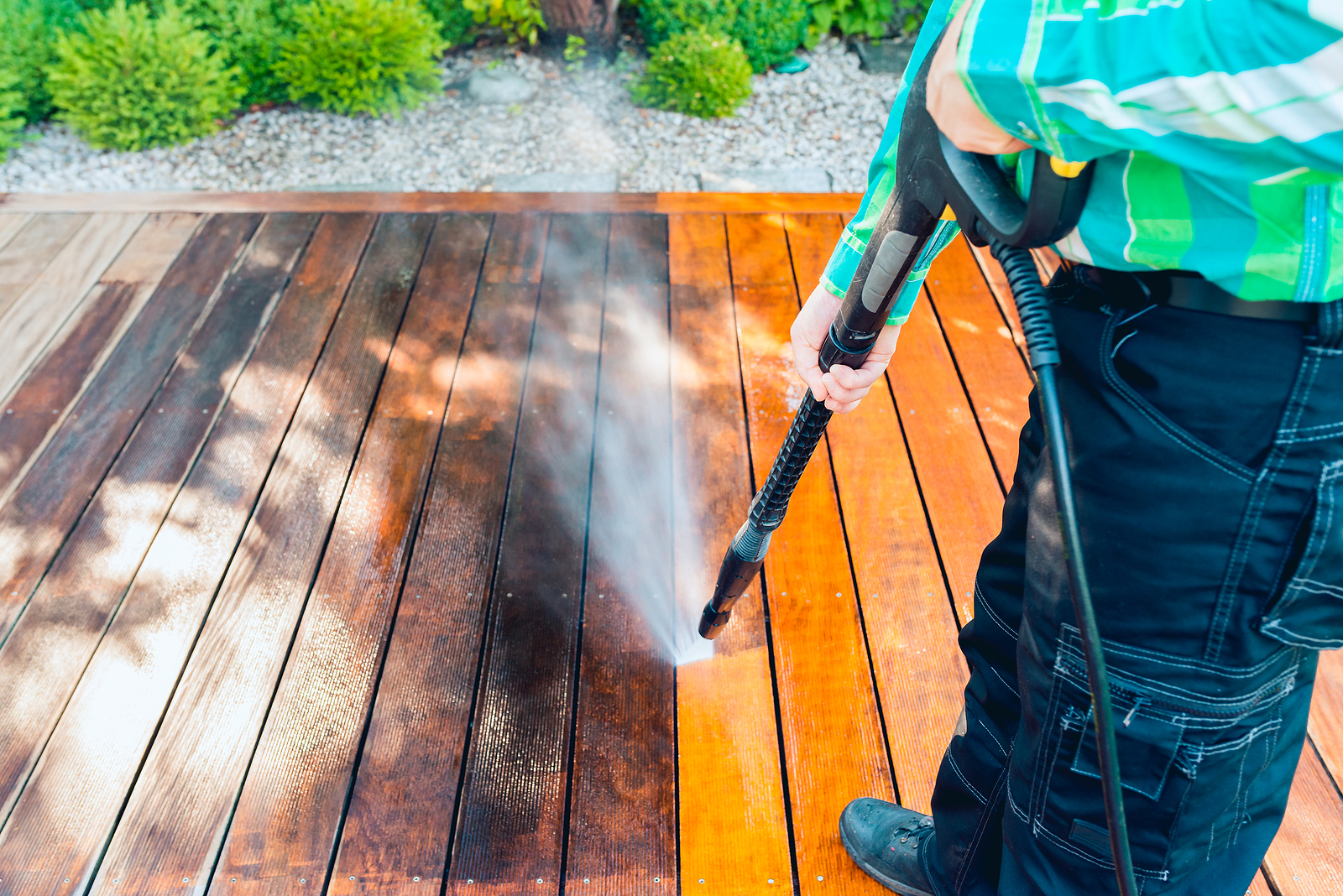 Deck replacement is extremely expensive, and because of their consistent and constant exposure to the elements, it can be hard to keep decks presentable over a long period of time. Deck power washing and staining by comparison are inexpensive. Year-round cleaning and maintenance is necessary, and often requires a specialized touch. Proactive and preventative care will help your deck look amazing and last longer while protecting it from common problems like rot, mold, and algae. 
Keep Your Deck Ready to Entertain
If you're asking yourself, "Should I pressure wash my deck?," or if you have a deck that could use a little TLC, we can help. Our team can ensure that your deck is:
Pristine

– Our team of pressure washing technicians will clean off external signs of rot, algae, & moss without damaging the underlying wood or finishes.

Safety-Checked

– When you have a poorly-maintained or damaged deck, there is a laundry list of safety concerns that come with it. Rotted wood or mold and moss covered decks can be a serious tripping hazard. If you can't see the problem and you don't know what to look for you can't diagnose it. Our power washing services can help. No more slipping and sliding in the rain. 

Guarded Against the Elements

– Regularly cleaning and maintaining decks will help keep them guarded against the constant rain and inclement weather that you face in the Pacific Northwest. 
Get in touch with us, and we'll return your deck to pristine condition any time of year. 
Click to Read More
Deck Painting and Restoration in the Pacific Northwest
Our deck painting and restoration services will restore the beauty of your deck and diminish dangers that can limit its lifespan.  Power washing a deck to remove stains is also something we can help with. 
A full deck replacement is among one of the most costly repair bills a homeowner can have, and quality restoration and cleaning will add beauty to your yard and landscape. A bad deck can affect property values, lead to some embarrassment, and lower curb appeal. A quality deck staining process will help:
Waterproof the deck and minimize the growth of slippery mold

Preserve the natural integrity of your deck

Deter pests like termites and rodents
Why Clean Your Deck?
A deck is one of the most attractive features of any living environment, and they often end up increasing the value of a home significantly. However, in order for a deck to retain value, it needs to be cleaned regularly, and that's not always an easy task. 
Do you know if your deck cleaner requires a wet or dry surface? How the wood was treated and what kind of finishes were used? What pressure is ideal for minimizing damage to your particular deck? If you don't, it might be time to consult an expert, as improper deck cleaning can lead to more problems down the road. From there, it's a lot of elbow grease. 
Hiring professionals with the right equipment and expertise will ensure that the job is done right and no issues get exacerbated. PDX ProWash has the tools, experience, and training to handle a routine deck cleaning in a few hours, rather than making it a multi-day project. 
When Should You Refinish?
In the Pacific Northwest, we get plenty of rain and occasionally hot summers which can wreak havoc on the look and feel of your deck . It's important to be mindful of UV exposure as well. When you throw dirt and grime from foot traffic and foliage on top of weather extremes, decks can decay before their time. 
Decks can require a complete replacement in as little as 15 years if not repaired and cared for. Make sure that you take care of your deck by using our cleaning services regularly. Enjoy your deck, don't replace it. 
About PDX ProWash
When searching for deck power washing near me, you should know that PDX ProWash is committed to a cleaner and safer Portland. We will schedule all work to meet your needs, complete the work required, and invoice without any personal contact if preferred. We're mindful of COVID-19, and we provide a "No-Touch" invoice transacted through email, allowing you to pay all invoices electronically and securely. 
Utilizing our water fed pole technology and pure water, we keep our feet firmly on the ground at all times while getting at any difficult areas. Get in touch with us, and see how we can help keep your deck and exterior entertainment spaces clean.