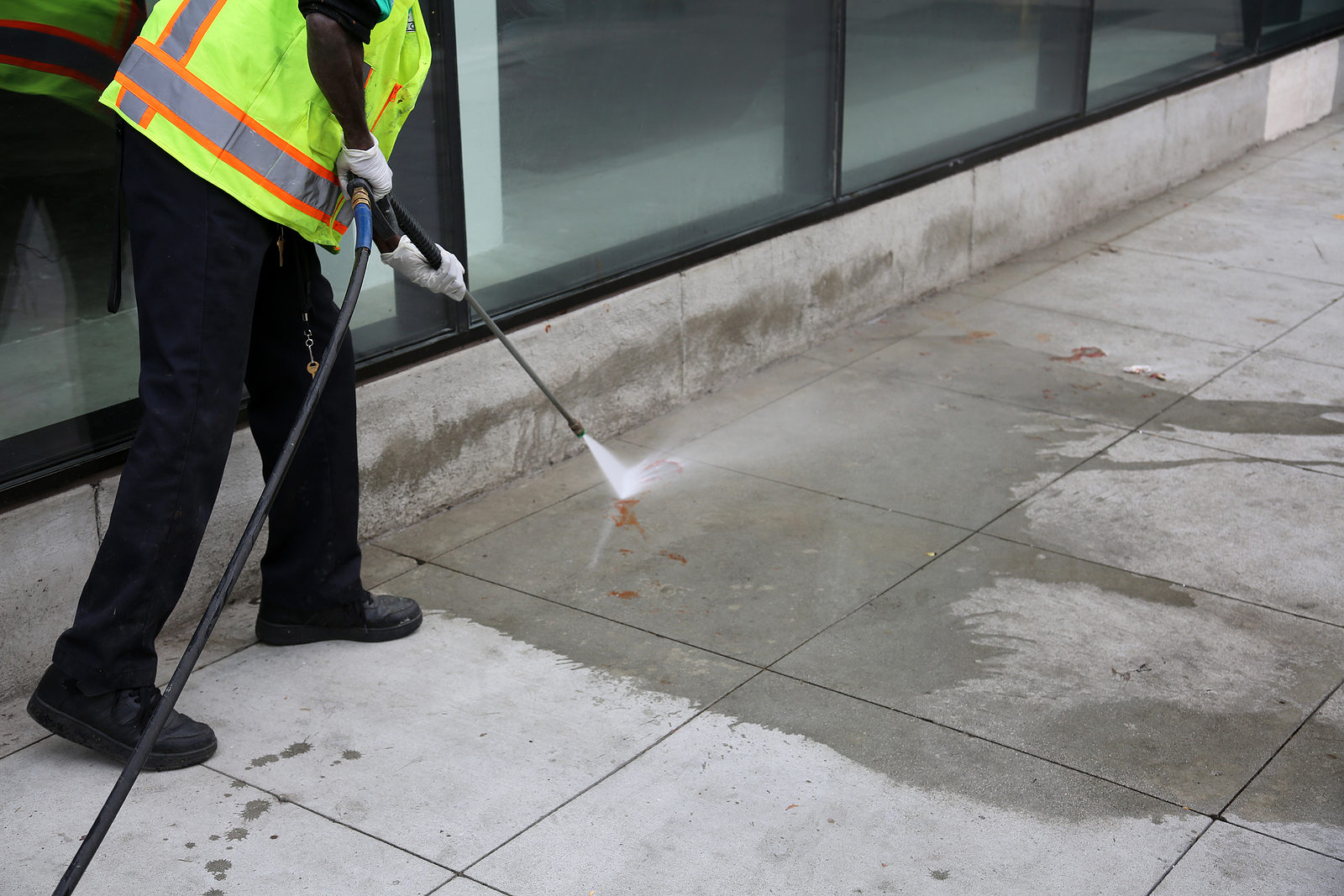 Foot traffic quickly creates a buildup of dirt, dust, and grime, no matter the building type or usage. The last thing you want is a dirty looking space that scares away customers and makes your office or commercial property less presentable. 
PDX ProWash is here to make sure that your cleaning needs are met, and we make it our mission to provide the best office or commercial power washing services. 
Why is Power Washing So Powerful?
Power washing is a cleaning method that uses heat and pressurized water to blast away dirt and grime, leaving behind a sparkling clean surface in office parks, buildings, & other mixed-use property types. On top of that, commercial pressure washing can be used to remove unsightly stains, as well cleaning walls, roofs, gutters, downspouts, and other external surfaces. 
Click to Read More
Power Washing Services for Mixed Use Commercial Property
Washing and Cleaning Office Spaces
When going for business ready cleaning, the latest and greatest in cleaning technology allows us to get everything presentable without the use of harsh chemicals or unnecessary procedures. Our cleaning techs are trained to minimize the hassle of pressure washing office courtyards, atriums, and exterior spaces like parking lots or break areas. Our team will move through your commercial space, only moving items as needed to keep everything nice and clean. We can work after hours or on weekends to ensure that your cleaning needs are met. 
Exterior Building Cleaning
Power washing commercial property exteriors isn't as simple as pointing and shooting with your power washer. Our team does a full walk through and alerts you to any issues before starting work. From there we do an assessment of any materials or obstructions that could be a problem.
As inhabitants of the Pacific Northwest, it's highly likely that you're dealing with a variety of issues with mud, vegetation, mold, and potentially moss. Our informed technicians know the best ways to remove moss with a minimum of chemicals and additional harsh treatment, preserving the integrity and quality of your property. If you're dealing with a multi-story building, large windows, or unique architectural features we can work with you to create the ideal strategy for cleaning.
When should I get my building cleaned?
As a general rule, exterior surfaces of a building need to be cleaned once or twice a year depending on the quality and type of exterior. A maintenance schedule that includes regular cleaning milestones that must be completed is a great way to ensure that your commercial building looks professional and clean on the outside and the inside. Additionally, regular cleaning will remediate and remove growths like algae and moss that can compound.
Common Problems 
Our cleaning crews are trained and ready to deal with the common problems that you see on external surfaces, including the following:
Lime run

– Lime run is a common bit of unattractive exterior staining that comes from carbonite. It's usually a hard white or grey crust along mortar joints, and it can actually threaten the structural integrity of a building. 
Black stains

– Black stains are often caused by hydrocarbons from vehicles that are eaten by a bacteria-based algae called gloeocapsa magma. Removing this algae can greatly improve the look of a building. 
Yellow and gold stains

– If you've had bad cleaning done in the past, you might have uneven yellow or gold stains from leftover muriatic acid. If not rinsed away in the cleaning process, it can create damaging and ugly stains. 
Run marks

– Run stains also are commonly caused by improper cleaning as well, and can often be easily addressed if caught in time. 
Vanadium stains

– Common in newly constructed or water-saturated surfaces, vanadium stains can be yellow, green, or brown, and show up on light brick surfaces. They are caused by vanadium salts that dissolve in rainwater. 
Efflorescence stains

– Often visible as powdery surface deposits that disappear when the surface is wet and come back when it's dry, these are often caused by salts in rainwater or construction water.
Regardless of the type of external building cleaning issue, our teams are ready and able to bring your building back to a sparkling clean state, so that it's no longer marred by unsightly staining. 
Exterior Window Cleaning 
We clean business windows efficiently and beautifully. You won't have to worry about people climbing all around your building on ladders and presenting liability or falling risks. 
We'll make sure to have your windows cleaned and streak-free, especially on a regular and affordable basis if that's your preference. 
Interior Commercial Window Cleaning
Schedule regular interior cleanings to fit your schedule. We utilize the latest technology avoiding the use of buckets of water and ladders, and can work around your schedule, your customers, and your employees. 
About PDX ProWash
PDX ProWash is committed to a cleaner and safer Portland. If you have been looking for a professional window cleaner near me, then we are your team. We will schedule all work to meet your needs, complete the work required, and invoice without any personal contact. We're mindful of COVID-19, and we provide a "No-Touch" invoice transacted through email, allowing you to pay all invoices electronically and securely.